If you ask my husband what his favorite dessert is, he'll tell you, without hesitating, that it's brownies. Of all the desserts and treats that I make, cookies and pies and cakes and tarts, he'll always go back to brownies. Add some peanut butter in there, and we're both happy. That's probably why we love these brownies made with Peanut Butter M&M's® so much. They're pretty much my favorite candy anyway, so I wasn't too disappointed when I bought one too many bags!
I usually use cocoa powder when I bake brownies, but this recipe called for melting real chocolate chips. I couldn't tell that much of a difference, but they definitely tasted amazing! I always have kind of a problem when baking brownies though, and usually overcook them. This time, I was able to pull them out of the oven right in time. I think that the trick with brownies is that you have to pull them out when they're still a little undercooked. That way they'll finish cooking when they are cooling, making them gooey and delicious. I'd love to know what your tips for baking brownies are though. There's always a 50/50 chance that I'll screw them up…
What is your favorite holiday dessert? Do you have a go-to snack that you make for friends or family like this?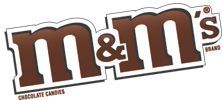 Your favorite chocolate candies are bundled up for Winter in festive holiday colors. Available in Milk Chocolate, Peanut, Dark Chocolate, Peanut Butter, Almond and Pretzel. Holidays are Better with M.
Learn More
Compensation was provided by Mars via Glam Media. The opinions expressed herein are those of the author and are not indicative of the opinions or positions of Mars.