Happy Friday! This week couldn't have gone by any faster! I am so very happy that it's almost the weekend though, because I get to spend it with all of the mothers in my life.
Tonight my husband is going to make me a cherry limeade martini, from the
skittles vodka
that we made last weekend. It's pretty delicious, if not slightly dangerous...
This week has been pretty good, and other than my slight
freak out
on Monday, I've been happy. It's been a lazy week; I didn't really do anything exciting, just stayed home and worked and watch a little TV. It was glorious.
Saturday morning we are driving down to Orange County to spend time with our families. Saturday night we are going to the Angels baseball game, and I get to cook both brunch
and
dinner on Sunday. Here's to hoping I don't screw anything up!
Here are some links to get you through your Friday:
Make your mom some
flowers
this Mother's Day
Sometimes I wish I could do my
wedding
over...
You can still
donate
to tornado relief without spending any money, but today is the last day!
* * * * *
We do happy hour all day on Fridays. Because it's five o'clock somewhere, right?

What are you drinking today?
Happy Hour is my weekly blog party, where we get to meet new friends, find new blogs to read, and destress from our week. We're all busy ladies and sometimes we just need to get out with some friends, chat, and have a drink.
Must be a follower of Love is Home to participate. If you aren't already a follower, just click that "follow" button over there to the right.
Scroll down to the bottom of this post and click on the link to enter.
Add your blog's information and button.
And you're done!
And if you want, you are welcome to use one of my buttons in your post!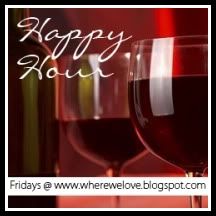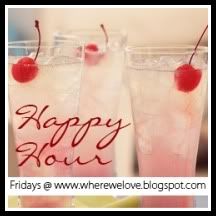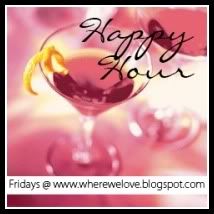 Much love friends,