I'm not much of a cocktail kind of girl (you all know that I love my red wine), but I am always in the mood for a good margarita. Usually when I go out, I'll stick with a regular margarita, on the rocks, no salt, but I always love to experiment at home. I recently purchased a bottle of Sauza® Sparkling Margarita, and I was really impressed! It's absolutely perfect for a hot summer night at home, especially when you have a few girlfriends over! They come in a few different flavors, including Original Lime, Wild Berry, and Mango Peach, so there is most definitely something for everyone!
Margaritas are always one of my favorite drinks to entertain with. It's so easy to pair food with them, especially in Southern California, and it's fun to experiment with glasses and garnishes. I always love pairing margaritas and Mexican food with bright colors, like hot blue, fuchsia, and yellow. Try looking for a funky table cloth to put on your table, or even a hot pink pinata to use as decor!
One of the best things about these margaritas is that there isn't much prep time needed, and you can have the drinks ready for your guests when they walk in the door! Salt the rim of your glasses before your guests arrive, and put them onto a fun tray with striped straws, so that all you have to do when they get to the party is pour in the sparkling margaritas and drop some ice in the glass. For an extra special touch, try offering shots of Grand Marnier that they can either shoot on their own, or pour into their margarita.
What's your favorite drink to entertain with in the summer? Have ever tried a sparkling margarita?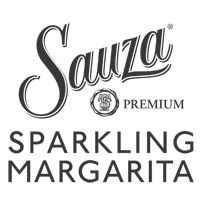 Sauza® Sparkling Margarita is our brand new, ready-to-serve sparkling margarita. It's available in three delicious flavors: Original Lime, Mango Peach and Wild Berry. Now you can add a little more sparkle to your ladies' night. Connect with us here:
http://facebook.com/SauzaMargaritas
.
Disclosure: Compensation was provided by Sauza® via Glam Media. The opinions expressed herein are those of the author and are not indicative of the opinions or positions of Sauza®.